Tummy Tuck Surgery in Mumbai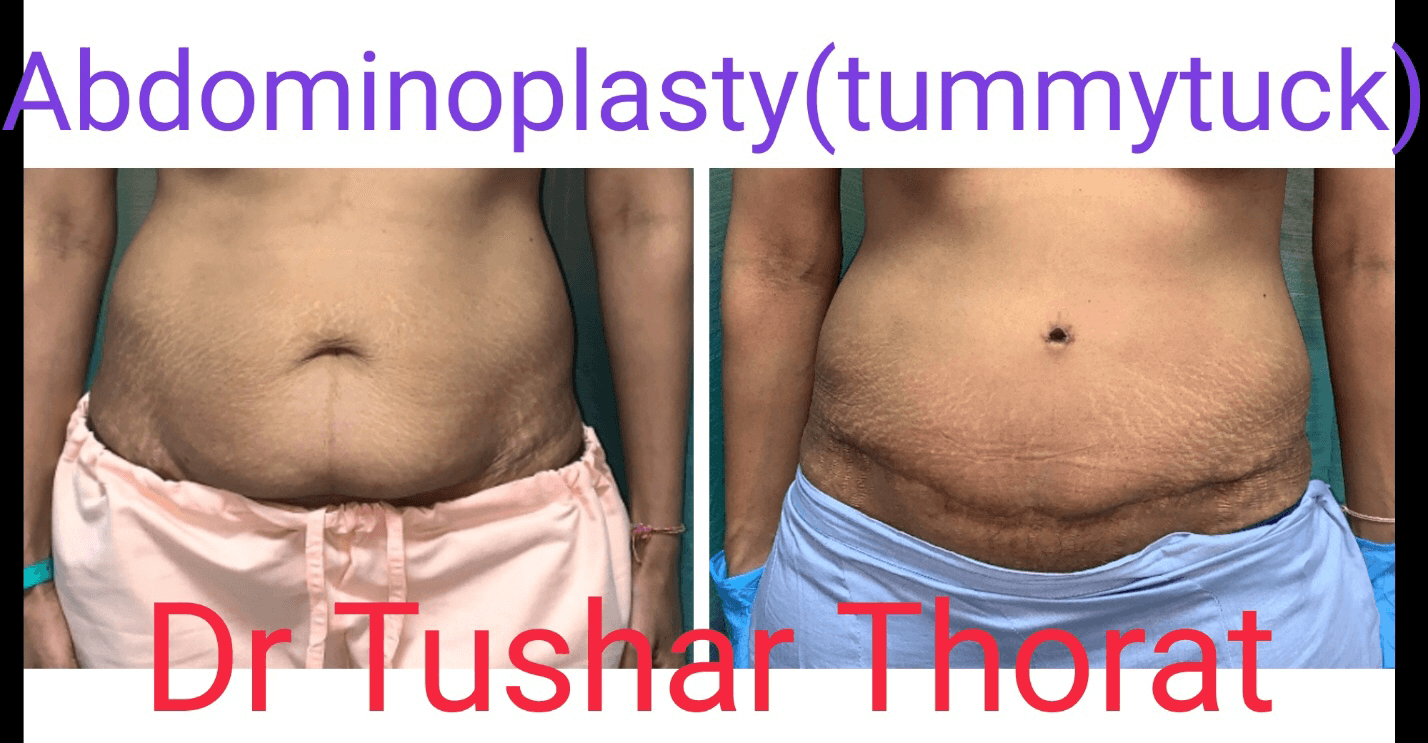 Abdominoplasty or "tummy tuck" is a cosmetic surgery procedure used to make the abdomen thinner and more firm.
Mostly women with post pregnancy or massive weight loss complains about the laxity of lower abdomen skin and fat. Even laxity in andominal wall musculature leads to hernia and discomfort. patient also complains about back pain due to shift of abdominal contents in bulgy abdomen.
The surgery involves the removal of excess skin and fat from the middle and lower abdomen in order to tighten the muscle and fascia of the abdominal wall. Surgery is done in general anaesthesia and needs 2-3 days of hospital stay. Patient goes back to regular activities in 2-3 weeks. Weight lifting is prohibited for 1 month post-op.
Due to meticulous suturing and absorbable sutures scar is hidden inside the undergarments and is painless. Liposuction of other areas can be added to give aesthetic results.
Is tummy tuck surgery permanent?
Yes, there is removal of excess fat and skin in lower abdomen. Umbilicus is relocated and hidden scar under undergarments.
Is tummy tuck surgery painful?
No. Patient mobilise themselves next day of surgery. Advanced pain relief medications are used to get back to routine in 2-3weeks.
How many hours is a tummy tuck surgery?
It generally requires 3-4 hours.
Is tummy tuck high risk surgery?
No. Proper work up in the form of investigations and state of the art equipment and machineries are untied to reduce risk.
How many sizes do you lose with a tummy tuck?
You can probably lose 5-8 inçhes.
Is there any way to get a tummy tuck covered by insurance?
If ultrasound abdomen reveals adnominal hernia then can be covered in insurance as ventral hernia repair
What is the difference between a tummy tuck and Panniculectomy?
Tummy tuck involves muscle plication, high definition liposuction and body contouring while panniculectomy is only skin excess removal
How long do tummy tucks last?
Long term if patient follows diet and exercises and does not put on weights.
Is tummy tuck worth it?
If patient thinks of own body deformity more than 3-4times in a week then it should be done.